Ice cream flavours I love!
Ice cream – a sublime creation and my favouritest dessert in the whole world! So, I have taken a stab at listing down my favourite Ice cream flavours and where you can find them. My top 50 (!) flavours in no particular order. By no means is this an exhaustive list and please add any obvious ones I may have overlooked.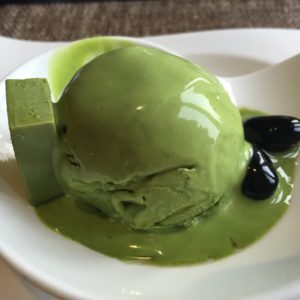 Indigo deli – creamy dreamy!
In addition to the usual Ice-cream chains, some delightful finds have been the ones at Indigo deli. So, if you haven't tried them yet, go grab some today! Find your favourite flavour amongst the 20+ options. Of course, you could go OTT and try their sundaes. Also, try the house-baked chocolate chip cookie Ice-cream sandwich to enter a state of quantemplative food coma!
Bono and Bina
The Artisanal boutiques like Bono (U2 will love them I am sure) and Sucres des Terres produce some delightfully unique flavours. And they are not afraid to experiment with fairly outre ingredients like truffles, bacon and blue cheese. Sucres des Terres uses the Spotted Cow fromagerie's frightfully pricey Camembert cheese to create the unusual and distinctive 'hate it or love it' Camembaby ice-cream.
Bina's homemade ice-creams has transformed the superlative Thai dessert Tab tim krob. Water chestnut rubies in coconut milk – a delightful ice-cream flavour! Also, try Bina's Spicy guava flavour, reminiscent of the bygone childhood era of eating chunky guava slices dunked into a mix of salt and red chilli powder.
Fave flavours!
Blueberry Mint at Indigo Deli – subtle and refreshing.
Belgian Chocolate at Indigo Deli – the liqueur works so well with the dark chocolate.
Hazelnut at Indigo Deli – the nutty, creamy flavour is just Bomb.
Peanut butter and Caramelized banana at Indigo Deli.
Dulce de leche at Indigo Deli – a trifle too sweet for me but has its fans.
Camembaby at Sucres des Terres – with Spotted Cow Fromagerie artisanal cheese, no longer on the menu!
Salted caramel at Sucres des Terres – beats every other version of it.
Dark chocolate sea salt at Bono – enough said.
Salted caramel at Bono – for the discerning palate.
Spicy guava at Bina's homemade ice-creams.
Thai coconut and red rubies at Bina's – frozen Tab tim krob.
Matcha at Kofuku – not even the Wasabi one matches up.
Mochi at Kofuku – a novel Japanese speciality with ice-cream enclosed in mochi, a pounded sweet rice cake.
Rum-n-raisin at K. Rustom – a legend, an institution.
Caramelized walnuts at K. Rustom.
Gianduja at Umame – Chocolate hazelnutty goodness.
Prune and Armagnac at Umame – unusual but addictive.
Belgian chocolate at Haagen Dazs.
Macadamia nut at Haagen Dazs.
Strawberry cheesecake at Haagen Dazs – out of stock for the longest while (angry emojis).
Blueberry at Haagen Dazs – Superfood ice-cream!
Ice-cream bars at Haagen Dazs – especially the Vanilla milk chocolate almond.
Mint milk chocolate chip at Baskin Robbins – the son's fave.
Bavarian chocolate at Baskin Robbins.
Strawberry at Baskin Robbins.
Rum punch at Baskin Robbins – complete with pineapple bits, no longer on the menu.
Roasted almonds at Swati snacks.
Paan at Sahib room, St. Regis.
Nolen gur at Oh Calcutta.
Mango Yoghurt at London dairy.
Coconut at Thai pavilion – love the crisp, brandy snap it's served in.
Dark chocolate at Trattoria – dark and deadly, this one.
Tender coconut at Naturals.
Sitaphal at Naturals.
Protein berry frost at Flat tummies – Dairy free ice-cream.
Rabri at Neel.
Hot chocolate fudge at Nirula's, Delhi – nostalgia driven, remember to buy the fudge to take home.
Hot chocolate fudge at Corner house, Bangalore – the real deal.
Favourites from my travels abroad ….
Above all, the distinctive indigenous local flavours stand-out. Like the Thai tea, Matcha or frozen banana flavours which are distinctive to their place of origin.
Thai tea at Cha tra mue – a slave for life, once sampled.
Coconut – with all the toppings at Chatuchak market, BKK.
Frozen banana at Quan bui, Ho Chi Minh.
Matcha at Haagen Dazs – why oh why is this one not launched in India.
Matcha crispy sandwich at Haagen Dazs – a wafer sandwich version.
Soft serve chocolate at Lady Godiva – some enterprising soul needs to become a franchisee, pretty please.
Chocolate ice-cream sundaes at Ghirardelli – the bomb, especially the Mint one.
Chunky monkey at Ben & Jerry's.
Phish food at Ben & Jerry's.
Chocolate chip Cookie dough at Ben & Jerry's – actually every freakin' B&J flavour!
Cheese stick ice-cream at Sushi Tei, Singapore – cheese and ice-cream you say, but it totally works.
Nama at Sushi Tei, Singapore – legendary Japanese chocolate in ice-cream form.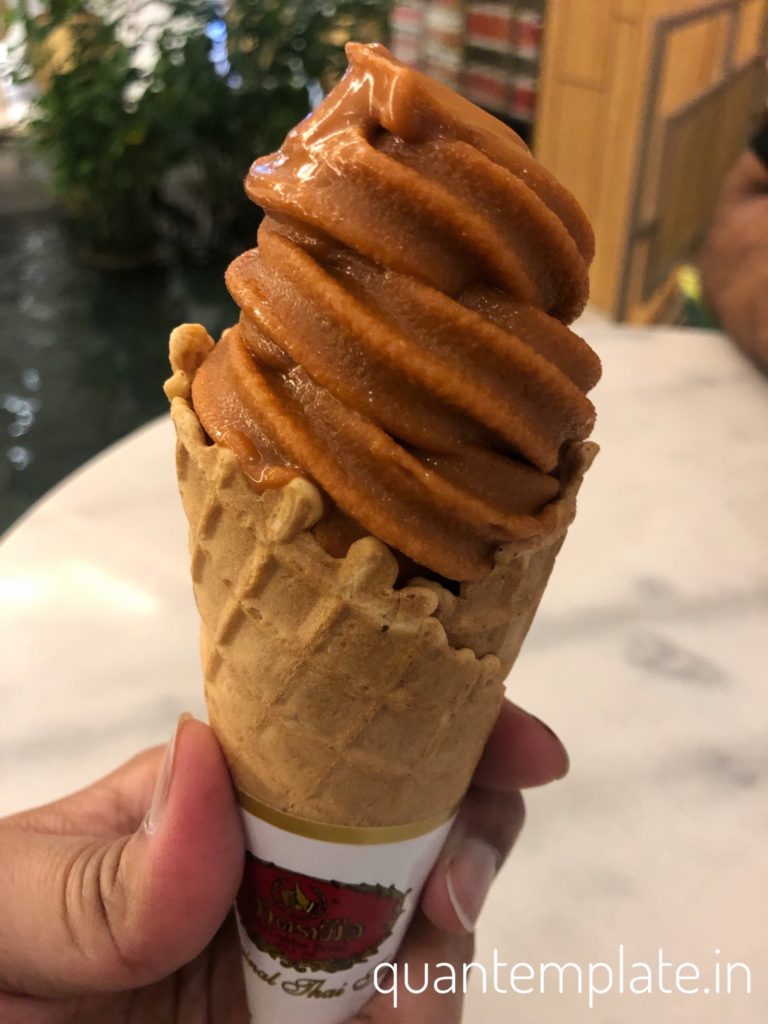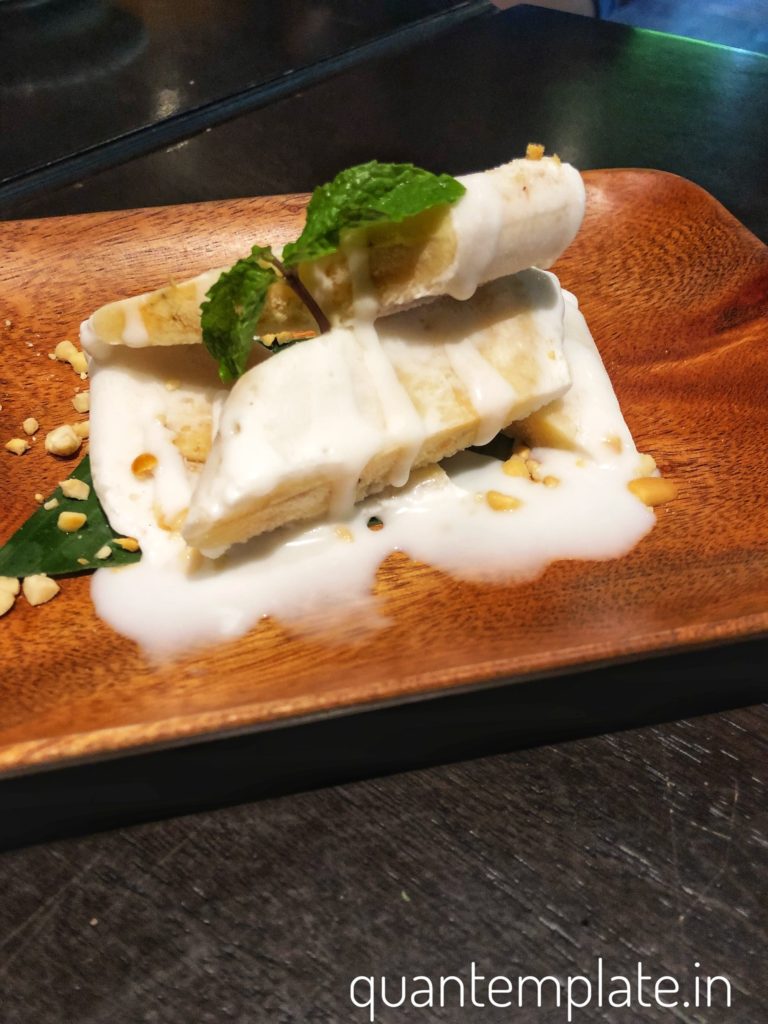 Steer clear!
A callout on flavours that sound much nicer than they actually taste. The Horlicks Nutella pancake at Papacream, for instance. So much anticipation, dashed in one fell scoop! Or the mochi at Pa Pa Ya and the famous green chilli one from Bachelors. And the entire range of house ice-creams at Yauatcha which should stick to making Macarons!
Hungry for more? Certainly, ice-cream lovers are sure to enjoy Shaved ice desserts. Or you could rustle up your own easy-peasy dessert fix – Mango Kiwi cheesecake nachos. Check the restaurant review of a Japanese favourite – Kofuku. And the Ho Chi minh city travelogue!