Ice-creams – airy, frozen niceness!
I scream
Ice-creams – the one dessert that I am always in the mood for. A sweet treat I can never refuse. The soft, smooth and creamy nature of ice-cream ensures that it will glide through the cracks. And make space for itself even after the heaviest of meals. This friend with a prodigious appetite put away 14 servings of ice-cream! I kid you not! Inspired by the ice-cream wheel at 7 kitchens – St. Regis. That too after a bursting-at-the-seams buffet experience!
Air bubbles
The air whipped into ice-creams is literally the wind beneath its wings! Above all, helps reiterate the notion of an ephemeral, floating, light-as-a-breeze touch on the palate. In contrast to other dense and heavy desserts like the standard issue, sugary brownie. Aeros and Cadbury Bubbly lovers are likely to be ice-cream fanatics as well. They get the delight that air bubbles can create.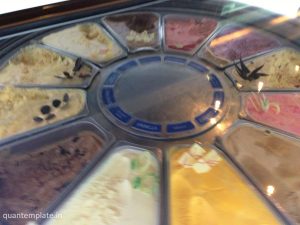 Childhood nostalgia
Ice-creams are usually associated with early childhood food memories. And help us relive those carefree moments in our lives. The husband will forever adore Raspberry or Mango dollies. Vanilla ice-cream enclosed with Raspberry or Mango sorbet, treats from his childhood days. I remember the Mama & Papa ice-cream cart. And how the bell on the cart invoked a Pavlovian response of running to my Mom to wheedle out the required money.
Magical addictive additive
Cassata ice-cream holds a special place in all our memories. The fanciest Ice-cream cakes cannot displace that. A lot of us even get nostalgia twinges for Tutti-frutti ice-cream though nothing will induce me to actually eat one now! People of a certain vintage will remember Cadbury's lateral extension – Dollops ice-cream parlours. Which shut shop soon after getting sold off, much to our chagrin. A scoop of ice-cream transformed a Coke to the uber cool Coke float. A similar scoop was the crowning glory of a cooling Falooda on a sultry summer day. The Royal Falooda at Badshah remains the necessary reviver after a sweaty tramp up and down Crawford markets by-lanes.
Is Kulfi really ice-cream?
The Kulfi form of frozen desserts with its condensed milky taste is more attuned to the Indian palate. As a result, it remains the classic choice of most traditionalists. It's almost like the Brownie of Ice-creams. Dense, chewy fudginess versus the airy lightness of chocolate cake. While the Parsi dairy kulfi finds favour with many, the husband insists that the roadside vendor dispensing multi-flavour kulfis at Century Bazaar, Prabhadevi has no match!
Beyond borders
The small-batch Artisanal and house ice-cream movement is the most heartening news for ice-cream lovers. Check the related post on favourite ice-cream flavours. Some of the more esoteric and relatively undiscovered places to flock to are Indigo deli, Sucres de Teres, Bono, Umame, Kofuku (for the Japanese versions) and Bina's home-made ice-creams.Travel beyond the Indian borders has resulted in a broadening of the flavour palette as far as ice-creams were concerned. Haagen Dazs (now available in India of course) and hopefully Ben & Jerrys soon! Italian gelato in Auzzieland, Coconut ice-cream at Jatuchak market in Bangkok – the list is endless.
Healthy ice-cream?
The yogurt based ice-creams are an interesting experiment. The best way to get the daily dose of probiotics. Though I wish they did not feel compelled to drown it with an insane number of sugary toppings. The gluten and dairy free version of Flat Tummies frozen treats are yummy for something so healthy. A valiant attempt to cater to the Vegan movement that's making its presence felt in key metros.
Good to great
The new-fangled 'chemical concoctions' nitrogen ice-cream or cold stone creations do not manage to make the cut. A a result of the desperate manipulation, the airy creaminess seems to get lost in translation. This is a constantly evolving space that leaves equal room for the traditionalists and legends. Rustoms wafer ice-cream sandwiches alongside a Salted caramel Bonos. Or Tender coconut Naturals co-existing with Haagen Dazs Strawberry cheesecake ice-cream. Artisanals and Experimentalists – more power to you!