Gola – Shaved ice dessert by another name!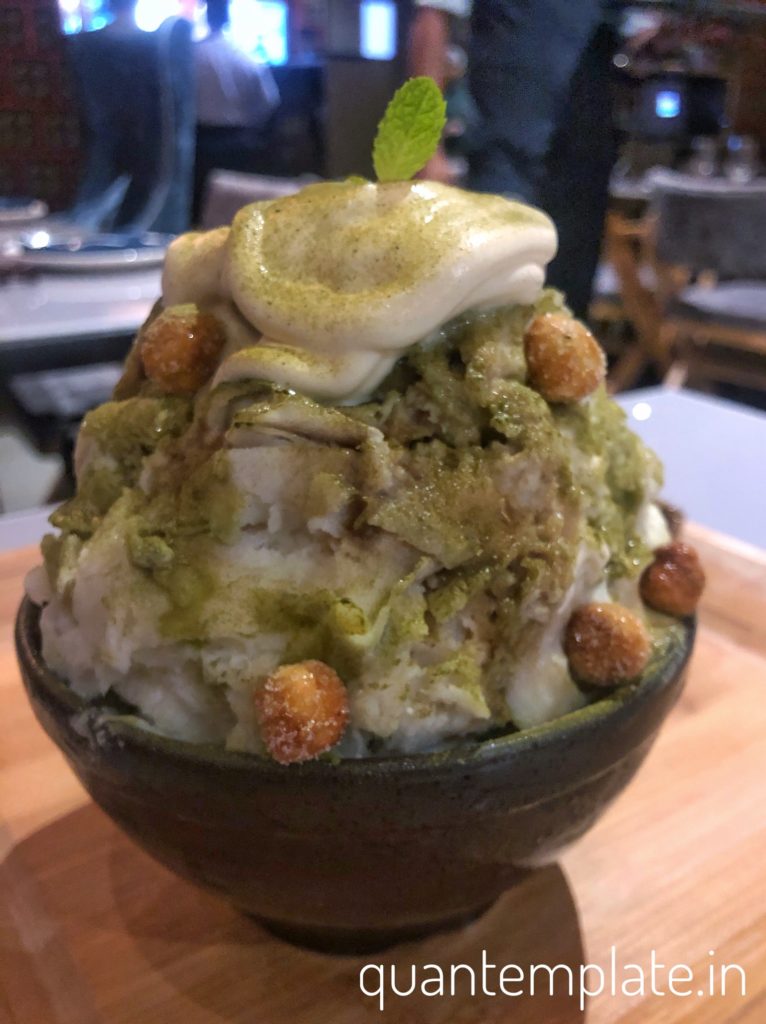 Gola universe!
The points of convergence and departure make cuisine comparisons across countries fun to decode. Shaved ice desserts seem to be a universal favourite to help combat the summer heat. The dessert in its most basic form is shaved or crushed ice, sweetened with flavoured sugar syrup. From the humble Gola or Chuski in India to the elaborate and elegantly artistic Japanese Kakigori. And everything in between!
Origin of the species
Did shaved ice desserts emergence from an inexpensive way to cool down from the sweltering summer heat? Or did some iron deficient person's craving for ice turn into a discovery for the greater good? Apparently that is a thing – a craving for crushed ice can be a sign of anaemia! Whatever the origin, shaved or crushed ice desserts are common summer street food across continents.
Kala Khatta Gola on Juhu beach
The humble gola comes in the full spectrum of rainbow colours. Above all, the Kala khatta gola sherbet made from jaamuns – Indian blackberries. Served on sticks with a dipping syrup in a glass and with a generous sprinkling of chaat masala. Certainly, the thing to cool down with on a hot day at Juhu beach! If you are lucky, Swati at Tardeo, Mumbai may have a sanitised version of the gola sherbet in a few flavours in summer. Maybe the sand and dirt add the X-factor to the Juhu beach one. Probably just my childhood nostalgia speaking!
Of Pepsi-colas, Sticks and Slushes
The convenience pack version of the Gola is another nostalgia inducing Pepsi-cola. Flavoured slush frozen in plastic tubes that were most likely not food grade! Probably branded as Pepsi-cola due to a cola flavoured version amongst the virulently rainbow coloured ones. The commercially packaged versions were the ice-candy stick ice-creams. Which camp were you – Raspberry or Mango? And the slushes in the form of a drink that were sure to give you brain-freeze!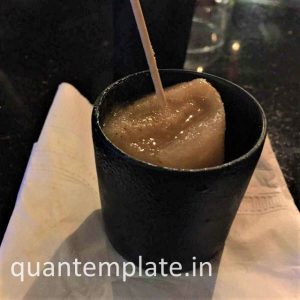 Bring on the Bingsu!
The Korean patbingsu or red bean(pat) ice now comes in a multitude of flavours and is called Bingsu when it's without the red beans. This more sophisticated version has successfully made the shift from the street into malls and restaurants. And Bingsu parlours are a common sight across Asia! The snow-like shaved ice that forms the base of the Bingsu elevates these creations to towering works of art. The roasted bean powder that's a quintessential part of a Bingsu ensures a distinctive taste. The matcha Bingsu I had at One Thing Coffee in Bukit Timah Plaza, Singapore was just too genormous (read gigantic, enormous, generous) to finish with matcha latte shaved ice topped with matcha ice-cream.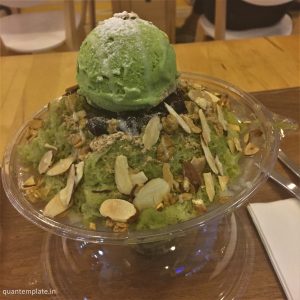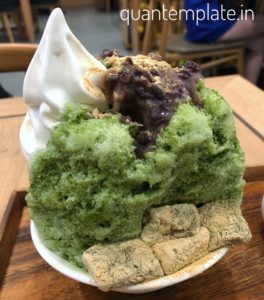 Kakigori wins hands down!
Most noteworthy, is the Japanese shaved ice dessert – Kakigori. It consists of an elaborately constructed shaved ice tower. Which is flavoured with fruit syrup, fresh fruits, ice-cream and nuts. Kofuku in Mumbai does a modified version – the Green tea Kakigori. Its matcha ice-cream topping a bowl of fruits with mango syrup. For a more authentic version, head to Mizu. Almost as good as the Thai tea Kakigori at After you dessert cafe in Bangkok!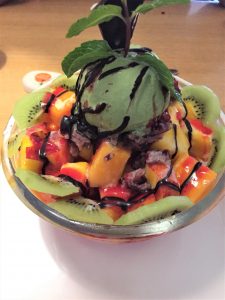 Thai Tab tim krob
This Thai water chestnut 'rubies' shaved ice dessert is a treat for coconut lovers. Try the classic version at Thai Pavillion or the heavily sweetened TYGR version. Or the orange scented one at Shizusan. Of course, you could get this at the source in Thailand!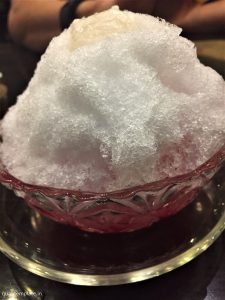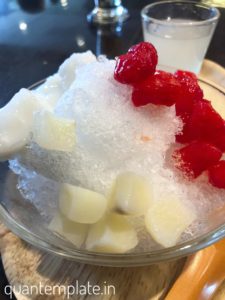 Cendol & Ais Kachang
Similarly, Cendol which is found in Malaysia, Indonesia and Singapore. Basically, a dessert with green wormlike jelly, coconut milk, shaved ice. Sweetened with Gula Melaka or palm sugar syrup. Often topped with jackfruit, sweetened adzuki red beans, creamed corn or even durian. Ais kacang or Ice Kachang is a more 'desserty' and fun version with condensed milk as an option to coconut milk. And many added toppings like fruits, jelly, agar-agar, rice-cakes, palm seeds or ice-cream. Similarly, the Halo-halo from Philipines and the Baobing from China. Or the rainbow coloured American snow cones!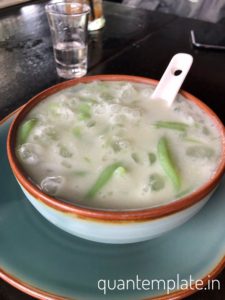 Granitas and Sorbets
The la-di-da sounding granitas are actually really basic and simple to make shaved ice desserts. Sorbets and granitas are quite similar in the basic composition of ingredients. Basically, the difference in technique creates different textures. While the sorbet is dense and almost gola like, granitas are crumblier, snowy and melt-in-the-mouth. Whatever the culture and history of a country, it's interesting to note similar thought processes across borders. And how we are so open to adopting a good idea and making it our own.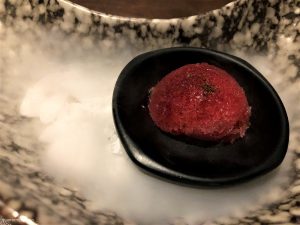 Fruit sorbet palate cleansers
Fruit sorbets with unheard of flavour combinations are served between courses as palate cleansers. The yuzu-wasabi one at Pa Pa Ya sounds intriguing but tastes funny. Certainly, Cafe Haq Se steals a march over others with its Guava gola. Most noteworthy, the Pear-fennel-chilli sorbet at Masque. As a result of imbibing this, the palate was singing and ready to take on more!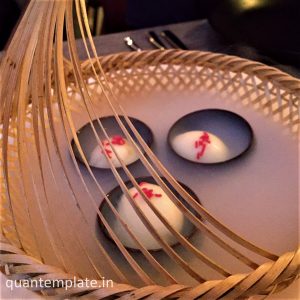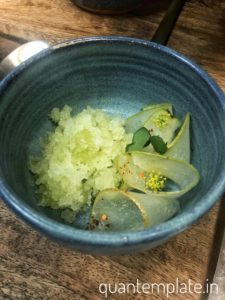 How to make Watermelon Granita
First of all, make the sugar syrup – half cup sugar and water each. Bring to a boil, switch-off the gas and cool it down. Next blend 3 cups of watermelon cubes and strain it through a wire mesh. Add the sugar syrup to the blended watermelon. I have omitted the sugar syrup and used just blended watermelon with no perceptible difference.
Let the watermelon pulp set in the freezer. So, the critical step is to stir the granita every hour, 3-4 times. And, there is a technique to the stirring. Take a fork and hold it with the pointy end facing down and your index finger on the back of the fork. Now draw the fork exerting the slightest pressure across the surface of the granita in a scraping motion. Do this 3 more times on the hour and voila your melt-in-the-mouth cooling granita is ready.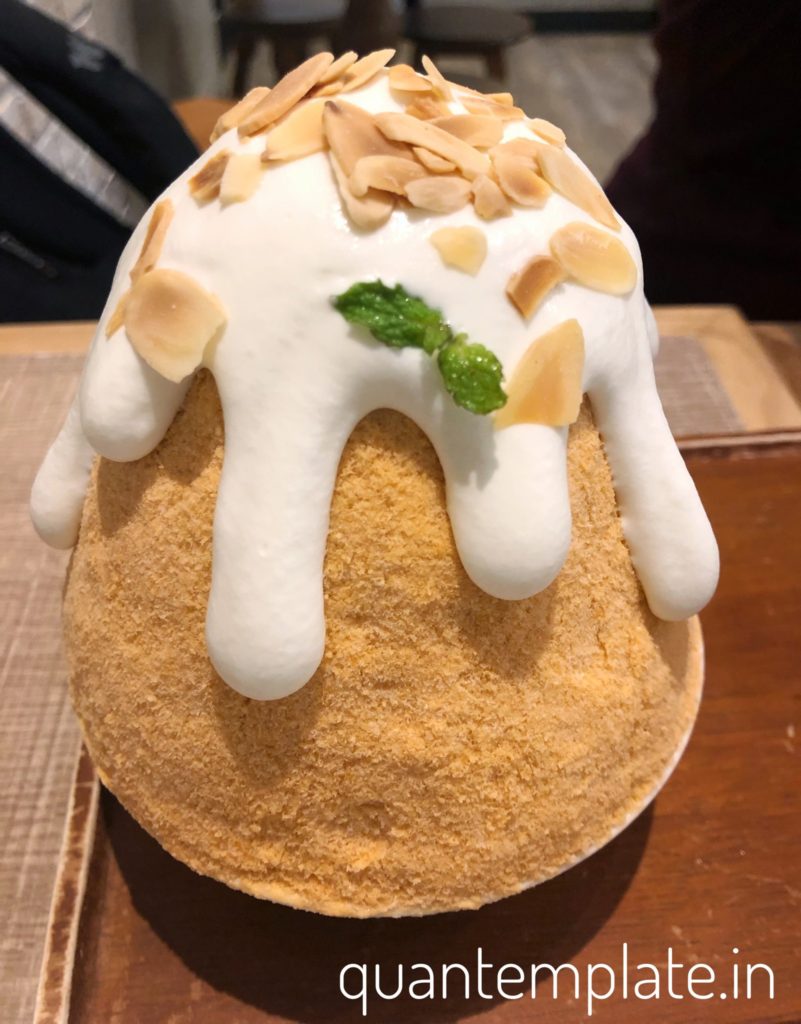 Are you a die-hard chocolate lover? Work your way through the list of Best hot chocolate in Mumbai . Dessert fanatics – checkout how to whip up this easy-peasy Mango Kiwi cheesecake nachos. Or read a fast food tale – a short story series themed around a food ingredient : Pompa's bittersweet Chocolate (and cricket) centred story.