Mango Kiwi Cheesecake Nachos
Nacho mad!
We are quite a nacho mad family having explored the entire spectrum of making the nachos at home from scratch to experimenting with Ritu Dalmia's bell pepper and feta cheese dipping sauce to ordering in and eating soggy Hard Rock café fully loaded nachos. It is no wonder that the mind wandered into a lateral, non-savoury extension that does double duty as an appetizer or as dessert. Strawberry cheesecake nachos on delish.com provided the inspiration.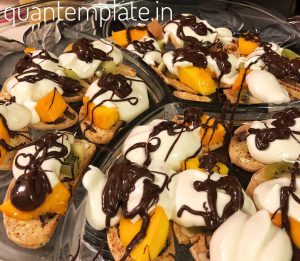 Anything goes!
While the original recipe calls for Graham crackers, you can be imaginative around this. Anything that provides a crunch! Try wafer thin almond biscotti, Marie biscuit, the very expensive Jules Destrooper's butter crisps or do like I did and break up ice-cream cones (Baskin Robbins) into large pieces to act as the crispy nacho base.
Easy peasy sauce
The cheesecake sauce is simplicity itself – just use a hand-held blender to whip together some cream-cheese, cream, vanilla extract and icing sugar and voila, there you have it. In case you do not have icing sugar, you can substitute with condensed milk. Just remember to put in an extra spoon of cream cheese to balance the liquidity. Cut mangoes and kiwis into pieces, melt some chocolate (I use dark chocolate to give an intense contrasting flavour hit) and you are ready to assemble your Nachos.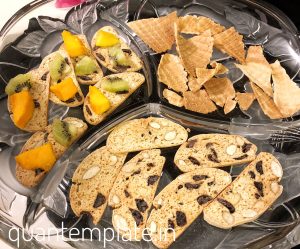 Layering is the key
Layer the cone pieces or biscotti on a flat serving platter or plate, scatter the mango and kiwi pieces ensuring each nacho piece has at least one mango and kiwi piece each. Okay, okay, I admit to arranging the pieces with an OCD fanaticism! Generously dollop the cheesecake sauce on the nachos and drizzle with the melted chocolate. Serve the cheesecake nachos immediately else the sauce will make for a soggy mess. Serve this unabashedly as an appetizer among all the savoury stuff and watch the look of surprised wonder on the faces of your guests at the next party!
Ingredients
Cream cheese – 250 grams
Cream – 2/3 cup or 180 ml
Vanilla extract – 1 tsp
Icing sugar – 1/3 cup
Mango and kiwi pieces – 2 cups
Biscotti – 8-10
Ice-cream waffle cones – 3
Chocolate (preferably Dark) – 200 grams
Method
The cream cheese needs to be at room temperature. Add the icing sugar, vanilla extract and cream and use a hand-held blender to mix into a creamy Cheesecake sauce. Melt the chocolate in the microwave in short bursts, stirring in-between till the chocolate is melted with no lumps. Lay the Biscotti and cone pieces onto the serving platter and top these with the mango and kiwi pieces. Dollop the cheesecake cream sauce on top of the nachos and finally drizzle with the melted chocolate. Serve immediately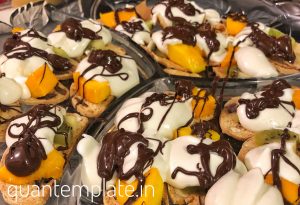 A die-hard chocolate lover? Work your way through the list of Best hot chocolate in Mumbai . Or build your repertoire of Chocolate bark flavours in this childishly simple recipe. Or read a Fast food tale – Pompa's bittersweet Chocolate (and cricket) centred story.