Pooja Dhingra's Tahini Almond cookies
Cute as a button pastry chef Pooja Dhingra's 'The Big book of  treats' is full of indulgent and sinful goodies. Like her signature Nutella brownies and Red velvet cake pops. The healthiest recipe has to be the Tahini Almond cookies though. Especially if you substitute the sugar with stevia like I did!
I am planning to try baking the Tahini Almond cookies with Erythritol the next time around to check if the result is better than the tell-tale aftertaste of stevia. You could pretend that the healthy effect of Tahini attenuates the alleged ill-effects of sugar. And just go with the original recipe which calls for flour, butter, sugar, tahini, lemon juice, milk and almonds.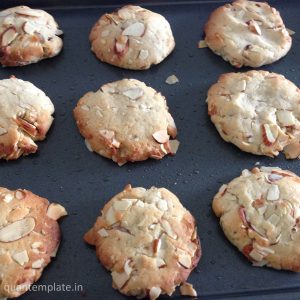 Tahini, a toasted sesame paste, has always been the not-so secret ingredient that differentiates a good hummus from a nondescript one. But its use as a dessert ingredient was brought home to me when I first tasted halva. A kind of mid-Eastern fudge that is nutty and highly addictive.
Pooja uses Tahini to impart a halva-like dense nuttiness to her cookies. And she uses lemons to cleverly offset  the heaviness. The lemons succeed in imparting a vibrant freshness to the cookies. The recipe is easy enough for an amateur baker. And requires none of the fiddly melting, mixing and rolling out that characterizes the more complex pies and tarts. A good way to take the moral high-ground. Before moving on to try the other not-so-healthy but oh-so-tasty goodies in Pooja's book!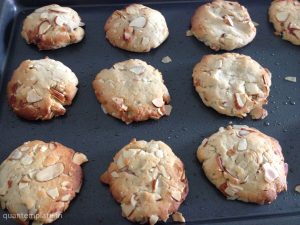 A dessert fiend? Try the Nutella cheesecake muffins full of chocolate hazelnut goodness. Or the easy-peasy Chocolate bark with infinite variations! Try the Mango Kiwi cheesecake nachos if you prefer a quick, fruitier dessert. Or check how Tahini makes for a creamier hummus in this recipe that gives you all the tips and tricks