Creamy Hummus recipe – health food lovers' dip
Dip, dip, dip
Maybe it's the comfort of the tried, tested and familiar taste of Chana that makes the Indian palate take to Hummus so easily. This easy-to-whip-up, creamy hummus recipe is quite a staple at almost all my get-togethers.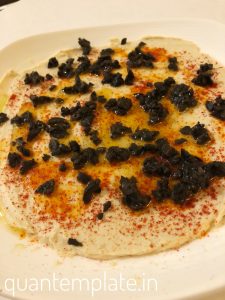 Ingredients
¾ cup chickpeas soaked overnight
¼ cup tahini (sesame paste)
1 clove garlic, crushed
Juice of ½ to 1 lime
2 tbsp sliced black olives, chopped
¼ tsp paprika
¼ cup extra virgin olive oil – EVOO
Salt to taste
Method
Pressure-cook the chickpeas ensuring they are submerged in water. Drain the chickpeas reserving the water they were cooked in. Once cool, blend to a smooth paste along with the tahini, juice of half a lemon, ½ tsp salt, the garlic and some of the reserved chickpea cooking liquid. Start with a few tbsp. of the liquid – just enough to help you blend the chickpeas. Add a few more spoons of liquid in case the chickpea mix is too thick. What you are aiming for is a creamy mouthfeel so err on the side of caution with the liquid. Taste and add more salt or lemon juice to taste. Add half the EVOO and blend briefly.
Get the hummus paste onto the serving platter and spread it out using a palette knife. Spread the paprika on the smoothed surface of the hummus, scatter the chopped olives and drizzle with the remaining EVOO. Serve with lavache, pita bread and vegetable crudites. I prefer long batons of cucumber, zucchini (skin-on) and carrots.
Secret sauce
The Tahini is the secret ingredient that is the taste-maker in this creamy hummus recipe so try and source this. It will make all the difference in the world. In case you don't manage to lay your hands on it, you can try making it at home by toasting sesame seeds and grinding it up with a little oil. Top with chopped parsley instead of olives for a fresher tasting hummus.
Some recipes recommend a painstaking peeling the shells of the soaked chickpeas. This is done before blitzing the soaked chickpeas in the blender. I find this process too fiddly though the claim is that this makes for a creamy hummus recipe. Feel free to do this in case you are finicky enough. I find that the quality of the EVOO makes for a huge taste difference. So ensure you are using a good quality Olive oil. 
Use a pizza-cutter to cut up 3-4 pita breads into triangular pieces. Next, brush the pieces with some EVOO. Scatter zataar over the pita pieces. Then, toast in the oven on a moderate 160 degrees. Turn the pita pieces and bake for a few more minutes till you have crispy zataar pita chips. Dip into the hummus and enjoy!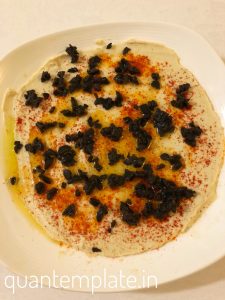 Try the stunning 7 layer dip at your next party and watch the compliments pouring in. Or try the Olive cheese balls – a surefire hit!