Cheese board – Party pleaser ready in minutes!
Cheese board to the rescue
When friends land-up for an impromptu party, who're you gonna call? No one! Just assemble a Cheese board in a matter of minutes. Simplicity itself to assemble and requires absolutely no cooking.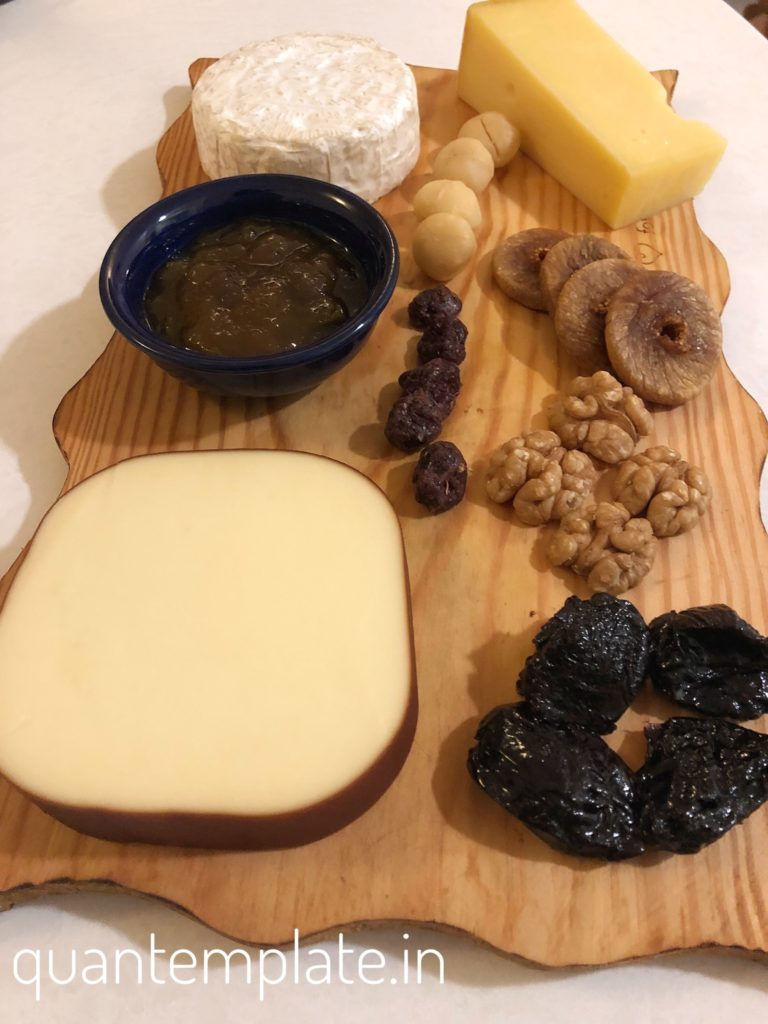 The array
You will need cheeses with contrasting textures and flavours. Hard, semi-hard, soft and blue cheese are the broad classes you may want to represent on your Cheese board. Parmesan is too dominating a hard cheese and I vastly prefer the milky Grana Padano. Got to sample this when a friend got back a genormous block from an Italy trip. Give it a try and you may fall in love with it as well.
Or you could try a semi-hard cheese like Gouda or an aged Cheddar. I chanced upon an Oakwood smoked cheddar that is a sure to be a hit. Gouda or Cheddar with truffles will please the truffle lovers. Another mild and creamy, Swiss semi-hard cheese is Emmental which has the iconic holes in it. Edam and Gruyere are expensive cheeses which I usually reserve for fondues.
Brie and Camembert are soft, creamy cheeses with mold which may not be to everyone's taste. Try them in baked versions (recipe to be posted soon) or opt for the soft, fresh cheeses like feta, burrata or mozzarella. Either have pre-marinated bottles of these or put together some yourself. Cube feta cheese, throw in some rosemary and thyme, bay leaves, chilli flakes or pepper corns and douse in good quality olive oil. Leave to marinate overnight and Bob's your uncle. Keeps for about 2 weeks in the fridge if you make it and longer if its off the shelf. Check David Lebovitz's recipe here.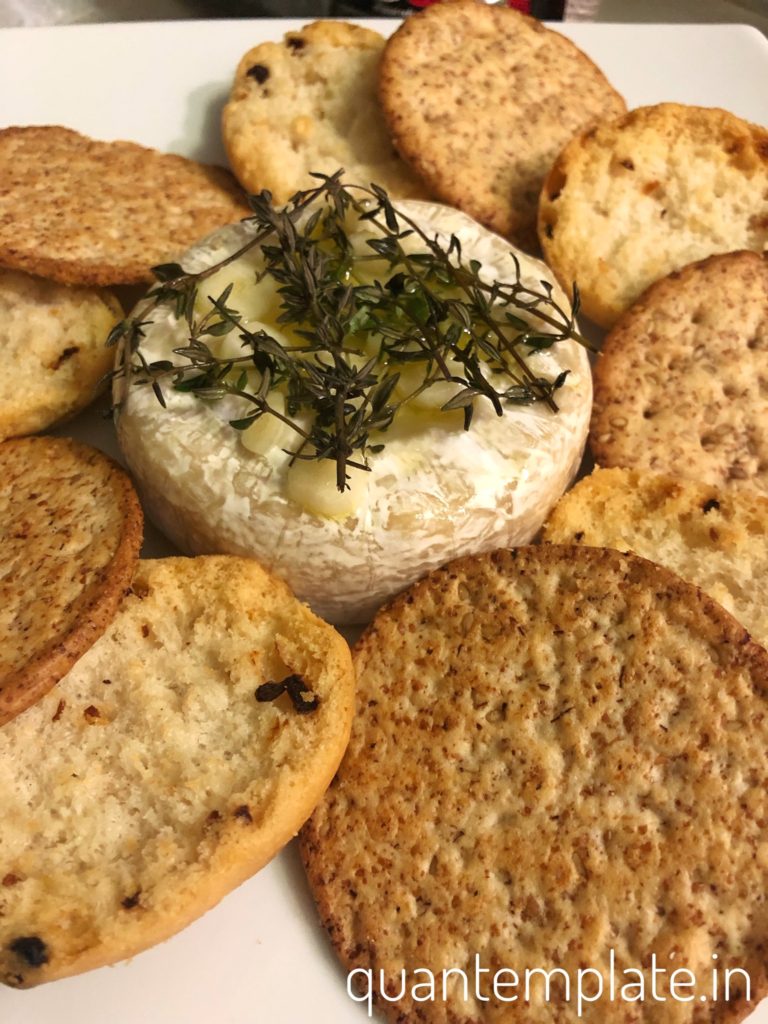 Numerous versions of cream cheese or goat cheese dips are available in the market or you can out this together yourself as well. Not a fan of Blue mold cheeses – find them too overpowering. And though the husband has a passion for them, I manage to keep them off my Cheese board.
Accompaniments – Bread and crackers
The accompaniments also need to have contrasting textures. Slice up some chewy ciabatta (Chewbacca!) and add some crackers to the board for crunch. Sliced baguette brushed with olive oil and baked for a few minutes is great as well. Rub the slices with a halved clove of garlic before baking for an additional flavour pop.
Fruit and nut!
Fresh fruits like grapes and figs are a sweet and juicy contrast to the savoury cheese. Wash, dry and cut each fig into four sections without cutting all the way through so it opens up like a flower. Wash the bunch of grapes and dry. Snip into smaller bunches if too big and serve a bunch at a time. Dried figs, apricots, prunes and cranberries also work at a pinch if fresh fruits are not at hand. You could also serve some sweet-hot mango chutney alongside as a piquant contrast.
Roasted nuts act as a nice counter to the creaminess of the soft cheeses, providing a textural crunch. Walnuts and almonds work best. Brush some honey over the nuts before baking them for a hint of sweetness.
Plating up
Invest in a good Cheese board – stone or wooden. A wooden chopping board can work as well if you don't have a Cheese board. Try to use one which is reserved solely for this purpose. Set out different knives for the different cheeses. In case you don't have cheese knives, use butter knives or forks for the softer cheeses and smaller knives for the hard cheeses. The cheeses must be served at room temperature so remove them from the fridge half an hour before you start preparing the Cheese board. Leave the wrapping on the cheeses so they don't dry out till you are ready to serve.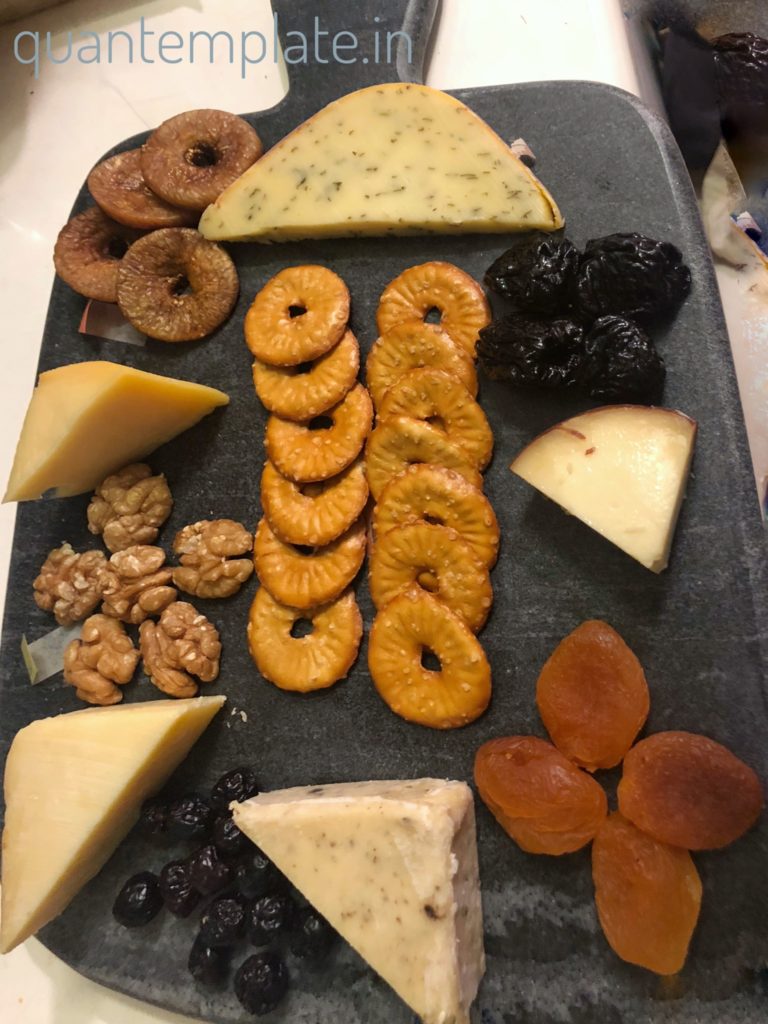 Lay out the cheeses on the board, except the feta which needs to be served in a small bowl with some of the marinade poured into the bowl as well. The bread slices, crackers and fruits should be laid out on the Cheese board itself. Serve the nuts in a small bowl alongside. Voila – an impactful appetizer is ready. The Cheese board is substantial enough to reign in solitary splendour though I like to serve it with a black olive tapenade on the side. Say CHEESE and dig-in!
A cheese fanatic? Try this easy-peasy recipe for Cheese Olive balls. Or this one for a magical Cheese souffle.