My Bengali cookbook collection
Collect books & not shoes!
If there is one vice that I would own up to, it would have to be collecting books with almost an Imelda Marcos like passion. Of course her obsession fed her soles while mine feeds the soul. This mania threatens to displace us from our tiny Bombay home! This despite 3 kindle devices and assorted ipads in the house! Within this collection, cookbooks occupy prime position with my favourite Bengali cookbook being referred to quite often. Frequently to just drool over all the Bengali food I am missing, being married to a non-Bengali.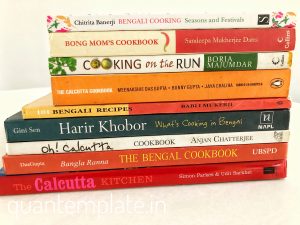 Kewpies – my absolute favourite
Do you have a favourite cookbook that you keep coming back to with dog-eared pages and curry stains? Above all, it would have to be Meenakshi Dasgupta's Bangla Ranna cookbook for me. After a meal at Kewpie's in Kolkata, eaten in a state of reverent bliss, I was presented with this Bengali cookbook by my boss. Clearly a man with impeccable taste! Turns out Meenakshi was called Kewpie and her family started up the restaurant after she passed away to ensure her culinary legacy and recipes were carried forward.
Her recipes manage to tread the fine line between tradition and experimentation with ease. So, I tried a few recipes and all of them managed to pass the stringent Bengali aunt test. For instance, the Potoler dolma – pointed gourd stuffed with prawns, Daab chingdi – mustard prawns baked in a green coconut shell or the crispy, breadcrumb coated Prawn cutlets. Whenever I am in Kolkata, no matter how short the trip, a visit to Kewpie's to savour the exquisite food legacy is absolutely mandatory.
Bong Mom's cookbook
This Bengali cookbook is a sharing of Sandeepa's life and its intersection with food. Her wry sense of humour and ability to connect with the reader makes her cookbook one of the more approachable ones. I have tried the Dhonepatta murgi and the Kancha lanka (green chilly) murgi (diligently translated into Hindi for our cook by yours truly). Both turned out good enough for the husband to stop muttering about how the chicken cooked at home always manages to taste of nothing. Next up, Mutton Rezala, Cauliflower roast and Dim (egg) kosha!
Chitrita Banerji's Bengali cooking
Chitrita's writing is poetic and just downright brilliant and brings alive the seasonal nature of our produce and food. Above all, the childhood memory of sloshing about in our gumboots in the rain and sailing paper-boats that her writing called to mind – just that alone was totally  worth it. The world over, chefs are working with seasonal and locally sourced produce and Chitrita's book makes sense of this alignment with the bio or should i say geo-rhythms of the world. Most of her recipes sound simple and end up delivering a delicious end-result, the Posto chicken being a case in point. So, this one is a keeper and will definitely gets its own share of curry stains soon!
Cooking on the run
Sports commentator and writer Boria Majumdar writes about his kitchen escapades. His recipes are not confined to Bengali food and feature dishes he learned to cook when he was at Oxford. Tryouts on my list are Mangsher (mutton) ghugni (what Bombayites know as ragda) and Dim Posto.
Babli Mukherjee's Bengali recipes
Babli's recipes are quite traditional, handed down to her from her grandmother and mother. I tried just one – the Pui shaak (vine spinach) Charchari with Pui that I grow in my balcony. And her Bhapa Doi or steamed yoghurt recipe using yoghurt and condensed milk is on my tryout list . My mother's recipe involves a lot of time and effort invested in thickening milk. This results in a Mishti Doi kind of taste versus a Baked yoghurt one.
Harir Khobor by Gini Sen
This cookbook has recipes that come closest to the way my mother makes them. Packs quite a punch with possibly the largest collection in a single book. Try some of the vegetarian recipes which seem really authentic. Shukto, a sort of first course, is a medley of vegetables that has a bitter note. Though I bought this book for purely sentimental reason. It carries a recipe for Pish Pash which evocatively brings alive a childhood memory. My Dida (grandmother) would tell me stories while feeding me this one pot meal of chicken, rice and veggies.
Oh! Calcutta cookbook
Anjan Chatterjee's  is the slickest of the lot featuring almost all the items available at his restaurant. Most importantly, bought to source the Daab Chingdi recipe. A white, non-mustard based gravy which the son loves with a passion bordering on fanaticism. Seems like this Bengali cookbook reserves a secret ingredient. So your efforts will never result in a dish as good as the restaurant. My Daab Chingdi never came close to the restaurant style taste. That's why I had to add boiled onion paste to ensure it has enough body. Calcutta kitchen has the best photography, bringing alive Kolkata city. Its Moghlai chicken is on my tryout list.
The list
In conclusion, here's the list  – happy experimenting! Which one is your favourite Bengali cookbook
Bangla ranna – Meenakshi Dasgupta
Bong Mom's cookbook – Sandeepa Mukherjee Datta
Bengali cooking – Chitrita Banerji
Harir Khobor – Gini Sen
Bengali recipes – Babli Mukherjee
Cooking on the run – Boria Majumdar
Oh! Calcutta cookbook – Anjan Chatterjee
Calcutta Kitchen – Simon Parkes & Udit Sarkhel
The Calcutta cookbook – Meenakshi Dasgupta, Bunny Gupta & Jaya Chaliha
Like Bengali food? Read the blow-by-blow restaurant review of Mustard – the latest entrant to the Bengali food bandwagon. Or the restaurant review for Peetuk – home style Bengali food
Try your hand at the Bengali Cholar daal recipe. After that, the winter special – Green peas ghugni