Best Delhi restaurants – Capital city, Capital food
Spanning the spectrum
Capital city for food in all senses of the term spanning the down-to-earth taste of street food in Old Delhi to the absolute high-end Dum Pukht and Bukhara at ITC Maurya. The only city to ensure a culinary Bharat darshan via all the State Bhawans (Guest-houses) with their local food canteens. Also a Smorgasbord of International cuisine food festivals initiated by the foreign embassies. And restaurants ranging from Thai, Vietnamese, Burmese to African, Spanish, Mexican, Greek, Italian and everything in-between! Here's my list of the best Delhi restaurants that I have experienced.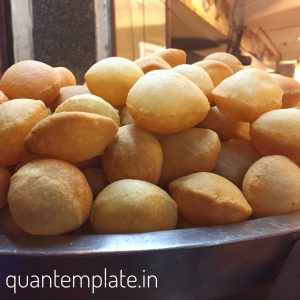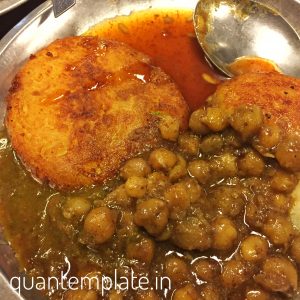 Inverse relationship to size
Is it the crisp, winter chill or the hearty 'no skimping on the butter and ghee' that lends the extra oomph to Delhi street food? So even the most humble establishment can (and does!) put out finger-lickin' great food. In fact there seems to be an inverse relationship of taste to size of the restaurant.
My personal weakness is the Rajma chawal and I never fail to lay my hands on a plate of this treat for the taste buds. No matter how short my trip to Delhi. The Tandoori tikkas and Butter chicken I had in a hole-in-the-corner place while strolling around Connaught Place on a cold winter evening could take-on any expensive restaurant. Ditto and likewise for the stuffed parathas. Though these need to be had straight off the tawa with a pat of butter slowly melting into their crispy goodness.
Best Delhi restaurants
My pick for the Best Delhi restaurants ….
Bukhara, ITC Maurya
Bengali market and Khan market Chaat
Andhra Bhavan
Big Chill
Shake square (Keventers) and Wenger's at CP
Gulati
Pind Balluchi
Nirula's (for nostalgia's sake)
Karim's
Haldirams
Chaat-busters
Delhi chaat with its gol gappas, alu chaat, papri chaat, alu tikki and dahi bhalla is absolutely unassailable. Now don't get me wrong. I can also be counted among the Bombay bhakts who have a tough time seeing the negatives of this city. I love the Sindhi pani puri at Kailash Parbat and the mineral water chaat at Elco in Bandra. Also the sanitized and made healthy with sprouts pani puri at Swati snacks. And the chaat at Trupti and on Chowpatty. But there is simply no competition with the Delhi chaat.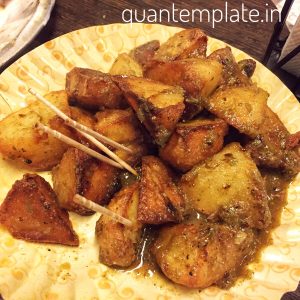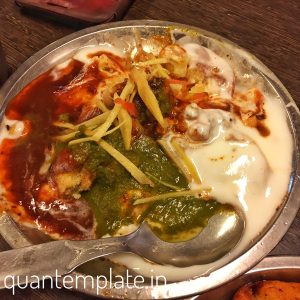 Deep-fried everything!
And Bhimsain's at Bengali market was my first introduction to it. I was fortunate to have a localite friend Satwick act as a guide to the place. We inaugurated the proceedings with the Alu fry chaat. This exquisite creation is simply unmissable consisting of chunks of potato unabashedly deep fried. Then topped with 2 kinds of chutney – a green tangy one, a dryish imli one and powdered spices. The Alu tikki chaat was excellent as well. The trick being of course to deep fry the tikkis in shudh desi ghee. I think I sort of began to understand the taste secret of Delhi chaat then. Deep fried everything! The PP or golgappa was a befitting wrap-up to the meal. The rawa puri being the totally distinctive Delhi touch but quite lead-like in the stomach. The Khan market Alu tikki chat is amazing as well. A definitive pit-stop in the midst of frenetic shopping.
Winter evening strolls around CP
An evening stroll on a crisp, late winter evening, people watching at Connaught Place. And what better way to end it than with a nostalgia-inducing milkshake that belies the maxim that everything changes. Apparently some things don't. Shake square or as it is more popularly known, Keventers still sells giant-sized bottles of milky goodness. None of the creamy shakes with excess sugar. What you get is a mildly flavoured drink with the taste of great milk shining through. An outsider would probably wonder what the fuss is all about. But for the localites who have grown up cradling a whole Keventers shake bottle almost as big as themselves, it's an experience that money can actually buy! The thing to do apparently is to pop into the adjoining Wenger's and grab yourself a mutton puff or a rum ball right after. Yet another nostalgia inducing moment.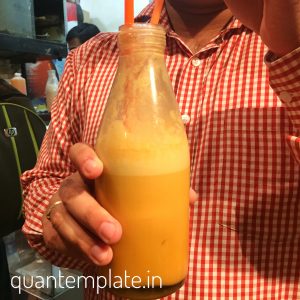 Everything except Alu at the Bukhara
I remember taking a friend for a treat to Bukhara at the ITC Maurya armed with a 50% discount ITC membership card. An immensely satisfying meal using both hands to rip, rend and tear into the most amazing kababs. The falling-off the bone raan and scooping out the last bits of the kaali daal. Post the meal, I found out that the Bukhara is the only ITC restaurant in India where the card does not work. Even that could not dent the glow that comes after an iconic meal. Bukhara also tops the best Raan list – check it out.
Gulati for gulati
I would do a Gulati for Gulati with its amazing knack of giving a taste twist to the old classics. Palak paneer transforms into Palak kofta with the paneer kofta being enriched with mawa and nuts. The palak too seems to have some tender corn purée in it. The resultant taste will have you vacuuming up this creation like there is no tomorrow! The show-stopper though is the mushroom galouti kababs. Melting in the mouth softness and a secret ingredients that was not revealed despite pointed probing! Guess I just have to keep coming back here to tuck into the awesome food! One of the absolute faves from the list of Best Delhi restaurants!
What the fudge!
Nirula's is like an old friend who you can take for granted. And pick up the threads of a conversation from exactly where you left off the last time. It's comfort food with a mix of the old favourites. Kababs, kathi rolls, rajma alongside the youth targeted Pizzas and Burgers. Those in the know though keep coming back for the hot chocolate fudge. That dense, caramelly chocolate sauce which is pure bliss topping a sundae is also available in portable bottles to carry back home.
Sohan halwa memories
My Dad would always get back Motichoor laddoos on his work trips to Delhi. But the thing that was the weakness of a chocolate loving, Indian sweet hating, little person (me!) was the ghee laden, sticky toffee like round discs of Sohan halwa. My husband on the other hand loves the seriously sweet petha, made of all things – safed bhopla or Ash gourd. Like they say, love is not bound by any convention and defies logic! In case you forget to pick up your quota of Delhi sweets, Haldiram's airport outlet with its neatly packaged range of sweets (and savouries) will come to your rescue.
Home-cooked with love
Are you are lucky enough to have Punjabi friends in Delhi who have loving mothers willing to cook up a storm? Then you are among the blessed few as the one thing that trumps everything else is an honest-to-goodness home cooked Punjabi meal. Rarely will you find the typical tandoori chicken, paneer tikkas and butter chicken that seem to be the staple of most restaurants. Instead you will get rajma or chhole or even the Amritsari langar ki dal, paranthas, stuffed and fried karelas (I could kill for this) and if it's the right time of the year, then gajjar halwa dripping with ghee and plump with raisins.
Liked this list of Best Delhi restaurants? Whatever your pick, "Chalo Delhi" is the mantra to get a Delhi belly full of this astounding culinary diversity! Red meat lover? Check out the Best places for Raan