Party pleasers – Olive cheese balls
Cheesy balls of goodness!
If there is one Appetizer that I inevitably get repeat requests for, it is these Olive cheese balls of goodness. The preparation time is actually greater than the cooking time for these. So it is ideal Party material! Just remove the prepared balls from the fridge, bake in the oven for about 10 minutes and you are ready to serve up these irresistible nibbles.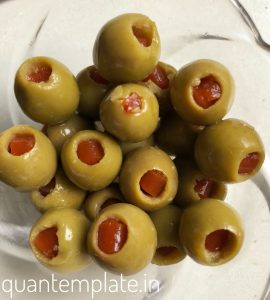 Ingredients
30 pitted Olives, ideally the ones stuffed with Pimentos
140 grams Cheddar cheese – roughly 1/3rd of a 400 grams block or tin
75 grams or 10 tbsp flour
75 grams or 5 tbsp butter
1/2 tsp mustard
Method
Leave the olives to drain in a colander. Grate the cheese finely and add it and the flour to a mixing bowl. Melt the butter in the microwave for 15-20 seconds and add that to the bowl along with the mustard. Mix these together to form the dough, adding a little more flour if it is too wet and a little more melted butter if it's too dry. Basically the dough should come together like a soft ball.
Divide the dough into 30 portions, place the portioned dough in the palm of your hand and use the other palm to flatten it. Place an olive in the center and bring the dough up to cover the olive. Roll the olive stuffed dough ball between your palms to form an evenly shaped round and lay it on a greased plate. Make up all the Olive cheese balls this way till you exhaust all the dough. Place it in the fridge for a minimum of 4-5 hours.
Place the Olive cheese balls on a lightly greased non-stick baking tray and bake in a 170 degrees C oven for 10 minutes. The dough forms a cheesy pastry casing which tastes great with the stuffed olive. The pastry encloses the heat and there is a chance of getting badly scalded if eaten right after it is brought out of the oven. Wait for a couple of minutes before serving these yummy Olive cheese balls.
Tips & Tricks
Some tips and tricks that make a difference…
The drier the olives, the crisper the pastry casing.  Drain the olives well and then dry them under a fan in the colander for a few minutes
Sifting the flour gives a lighter pastry (I think) so make that extra effort before forming the dough balls
Use either Dijon style mustard or the powder but not the French style for this recipe
Chill the mixed dough before portioning and stuffing them – makes them easier to handle
Keep a small part of the dough aside to fill any holes where the olive starts showing through the dough
A very important step is chilling the formed balls – don't try to skip this step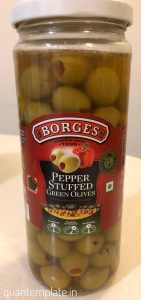 A die-hard cheese lover? Check out this easy-peasy recipe for Cheese Soufflé