7 layer dip – stunning party centerpiece!
Party on my mind
A dip is invaluable when putting a party menu together. Basically, the convenience of something that can be prepared ahead of time. The idea is to have at least 2-3 different kinds of dips. For instance, a smooth creamy dip – either a hummus or a hung curd one. In contrast have a dip which has more texture to it like this 7 layer dip. Serve alongside nachos, chips or lavache. Or fresh-cut crudites of zucchini, cucumber and carrot for the health-conscious.
This is the Mexican dip from Pioneer Woman Cooks . An amazing balance between smooth and dense refried beans, sour cream and cheese. And the light and fresh pico de gallo and guacamole. A little effort results in this stunning sure-fire party blockbuster.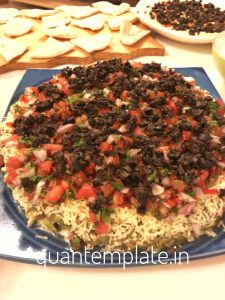 Layers of goodness
The 7 layers that come together homogeneously to form the irresistible dip are …
Refried beans
Sour cream
Cheddar cheese, grated
Pico de gallo
Monterey Jack cheese, grated
Guacamole
Black Olives, diced
How to
First of all, the refried beans are warmed up with sliced bottled jalapenos. Along with some of the bottle liquid, cumin and dashes of tabasco sauce. Next, the pico de gallo, which has 4-5 diced tomatoes, half an onion, lots of fresh cilantro and lime. Also, I skipped the extra jalapenos in the pico de gallo.  Since the beans already had quite a bit of spice from the jalapenos.
About one-third of the pico de gallo is mixed into mashed avocado to make up the guacamole layer. Finally, spread the 7 layers one above the other. And accompany the dip with nachos, garlic toast, lavache or chips. Stand aside for the crowd will beat a path to the table and not rest till the plate is wiped clean!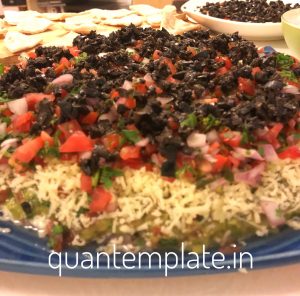 A nachos maniac? Try this lateral extension into a sweet version – Mango kiwi cheesecake nachos. A surefire part hit! Or try the cheesy goodness of Olive cheese balls