Umeboshi plums and the Grave of the fireflies – Review
10/10 Movie
After quite a while I watched a movie that rated a 10. This happens only when a movie manages to move or inspire you besides making you laugh and/or cry. Grave of the fireflies is a Japanese anime movie about many things. The ravages of war, civilians ultimately paying the heaviest price, an elder brother not allowing himself to feel the grief of losing his home because he has a younger sister to look after. But above all else it is about finding joy in the little things and living in the moment.
Food on celluloid
The theme that runs through this Japanese anime movie centers around food. The poignant memories stay with you long after the film is done and dusted. A single fruit drop in Setsuko's mouth is enough to send her into paroxysms of giggles and glee. The jar of umeboshi pickles that Seita had buried away and how a single plum from the jar puckers up his mouth and has him yodelling. Their mother's Kimono traded for 'white rice' only to be fed gruel by the malignant aunt who reserves the rice for her husband and daughter. The sugarcane that Seita steals from the field for his ill sister only to be caught by the farmer and dragged to the police station.
The malnourished, feverish and hallucinating Setsuko sucking on marbles thinking it is candy. Seita running towards bombing sites to scavenge for food while all others flee in the opposite direction. The watermelon Seita manages to get for Setsuko, a morsel of which is the last thing Setsuko eats. And finally, the red tin box that seems to encompass the world holding candy at one point to fireflies the next and finally Setsuko's ashes.
The ravages of war
Our taken for granted 'everydayness' of life cut to our present time 'real world' front page news of Kim and Donald brandishing their nukes at each other and the thought of how this time around there will be no answers…….. only ashes blowing in the wind.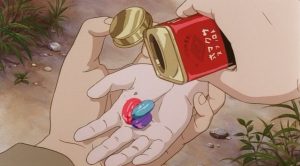 Umeboshi
Liked this review of the Grave of the fireflies? Read the other Food on celluloid posts – Audrey Hepburn the forever girl . Or Brad Pitt on the act of acting or is it eating? Or Of Amitabh Bachchan, watermelons and feeding frenzies