Tunday Kababs – Lucknow ki shaan!
To the source
An overnight recruitment trip to Lucknow meant that I would finally get to sample the famous Tunday kababs. A family feud must have resulted in a splitting up of the franchise. The one closest to the campus was actually titled "Granson of Tunday Kababi'. All plans for wrapping up the interviews quickly and heading to Tunday came to naught and we finally wrapped at 10:30 pm. Since Tunday was supposed to remain open till midnight we decided to carry on anyways. Imagine our chagrin when our driver refused to take us there! He claimed it was no place for ladies and the best of our persuasion tactics failed with him – no luck in Lucknow! Finally, after our humble and earnest entreaties, he agreed to parcel the food while we waited patiently in the car.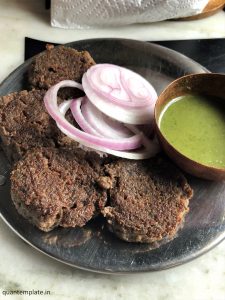 A taste of Lucknow in Mumbai
I popped the kaabs into the mini freezer in the hotel rooms and flew it back to Bombay. The next day we had the amazing Lucknowi Galouti kababs! The origin of these dating back to the toothless Nawabs. The Kababs were ground so fine that they literally dissolved in the mouth. The seekh kababs were amazing as well – spiced just right. The closest I have come to eating similar tasting food would be at Kakori house. The chain of restaurants in Mumbai which have a Lucknowi touch to their food. The city itself merits a proper foodie trail visit spread over 4-5 days at the very least. On the bucket list that but at least the Galouti from Lucknow (if not in Lucknow!) has been checked off.
Flea Bazaar cafe does not measure up
Heard about a branch of the Lucknowi Tunday kababs opening shop in Lower Parel as part of the Flea bazaar cafe collective . I rushed post-haste to recreate the Lucknowi experience. All hopes of having a piece of Lucknow sitting in Bombay were dashed to the ground. The kababs resemble the Lucknow ones in appearance alone. They tasted of nothing actually! None of the subtle underlying hint of exotic spices that makes the galouti such a pleasure to have. Kakori does a much better job of it. Now, if only they could reign in the heavy handedness when it comes to chillies! The trials and tribulations of Flea bazaar cafe itself is worthy of another post.