Bastian of a genius!
Bastian Mumbai – Kelvin Cheung's baby!
My rebellious streak manifests at odd moments. It makes me run the other way from where the crowd is heading. The hype around Chef Kelvin Cheung's restaurant Bastian Mumbai had the opposite effect on me!  So it was quite a while post the launch that we ventured forth.
The first time unfortunately was with a couple of vegetarians where we politely stuck to mostly vegetarian dishes. This of course meant that we wrote off Bastian Mumbai as an uninspiring restaurant not worth a revisit. It was a good year and a half later that we decided to give it another go. Took us a few attempts at getting here, given our preference for pigging out at lunch over dinner. And that Bastian Mumbai is only open for dinner on the weekend.
Minimalist, earthy décor
Bastian Mumbai makes full use of whatever natural light they have access to while augmenting with a plethora of lamps that masquerade as candles. The cream walls with an unfinished texture, exposed brickwork and the brass studded wooden bar counter and doors work together to convey an earthy and comfortable feel to the place. The dressed-up, young crowd that seems to adore Chef Kelvin Cheung's food style is to be found here at all hours of the day (and week). They manage to give the place a young, upbeat, with-the-times vibe that no amount of clever décor can achieve.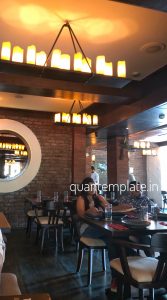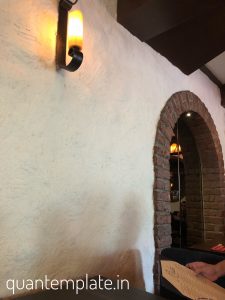 You had me at the Crab toast!
The food at Bastian Mumbai seems to reflect the chef's personality – generous, bold, inventive and not afraid to take risks. Portions are generous to a fault so choose your dishes carefully or then go there with a gang of friend so you can sample more. We started with the Bastian signature dish – the Crab toast. Gluten free brioche loaded with deshelled crab in a coconut milk, cheese and thecha sauce topped with a sunny side up egg – phew!
Dr. Seuss would have changed the course of history by writing about Green eggs and crab (instead of ham) if only he had a taste of this magical creation. Does the green colour come from a green curry sauce or avocado or the green chilli thecha? What's the secret ingredient in the secret sauce? I thought I detected a hint of laksa paste in there. While these thoughts are flitting through the mind, the senses are focused on the thrill from this palate pleasuring bomb. Quite heavy for 2 people though and by no means a 'small' plate. About finished us off and we struggled through the rest of our order.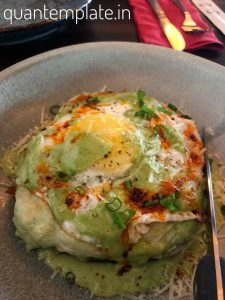 Salmon sashimi
Who knew such delicate slivers of salmon could pack such a wallop of ponzu-jalapeno flavour! Cucumber and spring onions topping the salmon provided a textural element. I did not let our server clear the dish till I had drained the last bit of the tart ponzu sauce from the plate!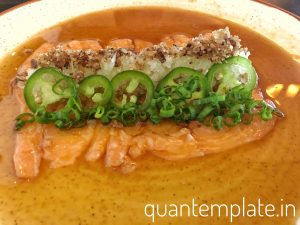 Pork clean bowl(ed)!
The pork bowl with Naga chilli, pakchoy and Jasmine rice was our main course order. The fork-tender pork had just the right balance of chilli, fried garlic and a touch of sweet.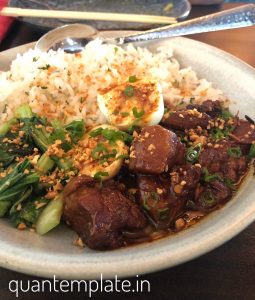 There's always room for dessert
……..if not in your stomach, then certainly in the fridge! I ordered the Smores stack – gluten free cookie, topped with a glistening, creamy cheesecake filling. A layer of dark chocolate and torched meringue topped this. Too often we come across desserts that look really pretty but do not deliver on taste. This cheesecake was pretty as a picture and seriously delish. I have found the dessert I intend ordering every single time I come here! That heralded the end of our astounding meal at Bastian Mumbai. A precursor to many more! We will work our way systematically through the menu stopping at the Smores stack!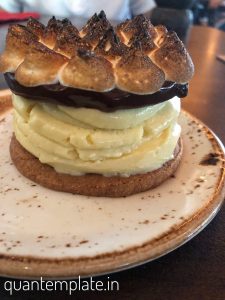 Chef, please expand your footprint!
A much wider audience needs to experience Chef Kelvin Cheung's inventive genius. Imagine if you were told the secret ingredient in the secret sauce and were able to whip up your version of the Crab toast sitting anywhere in the world! A earnest request to start a food blog, a TV show or a recipe book so that the world is your Bastian!