Umame – South Mumbai Asian hotspot
Farrokh Khambata's baby
Restaurateur and Chef Farrokh Khambata was one of the early adventurers foraying into non-Chinese territory. Umame delivers a much needed dose of Asian food to South Mumbai. Joss lovers can rejoss (sorry could not resist the bad pun) as they will find most of their old favourites at Umame. Including the hot chocolate Kahlua souffle and some new gems!
Sail away on a sushi boat
Definitely unmissable is the sushi boat! A platter of the choicest 5. Tempura prawn roll, salmon nigri, a crab sushi and 2 outstanding tuna rolls. Veggies try the water chestnut corn balls, individual portions served in soup spoons. Steaming hot on the inside so take care. Or the mushroom basil cream starter.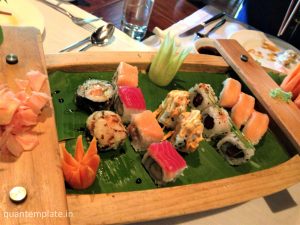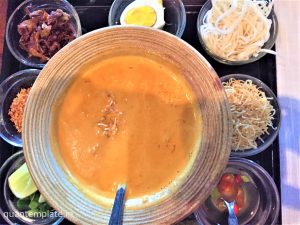 Khowsuey lovers rejoice
Though more Thai than Burmese in flavouring, the Khowsuey at Umame is a sure fire hit. Dowse the noodles in curry and top with your choice of condiments. Fried onions, garlic, lime, celery, boiled eggs et al! You can't go wrong with any of the Umame Thai curries either. We always fight about whether it would be the green, red or Massaman curry. The Jasmine sticky rice serves as the perfect foil to the curries.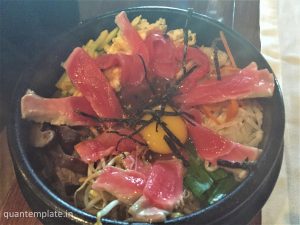 Korean rice bowls
We tried the Korean bibimbap on our latest trip to Umame and were not disappointed. A claypot cooked rice, egg, beef, veggies one pot meal. It comes dressed with the typical fermented chilli paste – gochujang. May not be to everybody's taste as it can be a trifle dry but the husband loved it. The Singapore prawns that we ordered on the side perfectly complemented this.
10/10 desserts
Wrap with the Gianduja ice-cream with its chocolate hazelnut goodness. Or the Prune Armagnac ice-cream – unusual  but addictive. And of course the Kahlua hot chocolate soufflé. Order it at the start of the meal as it takes time to bake. And you don't want to wait long for a piece of heaven 🙂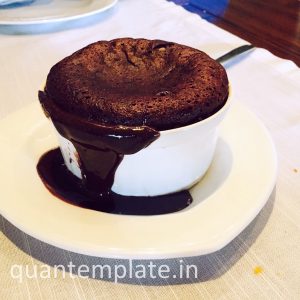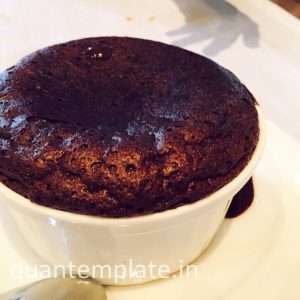 If you are a sushi fiend like I am, check out the Best Sushi places in Mumbai